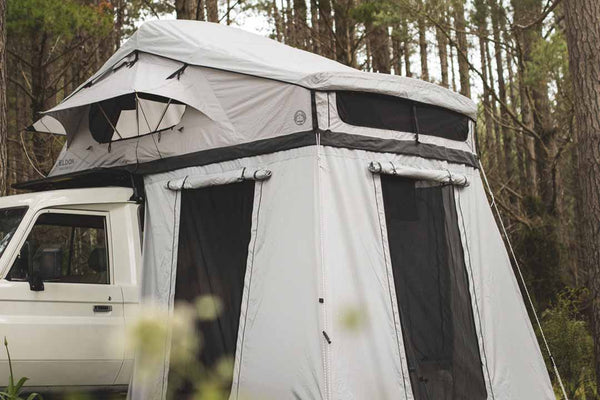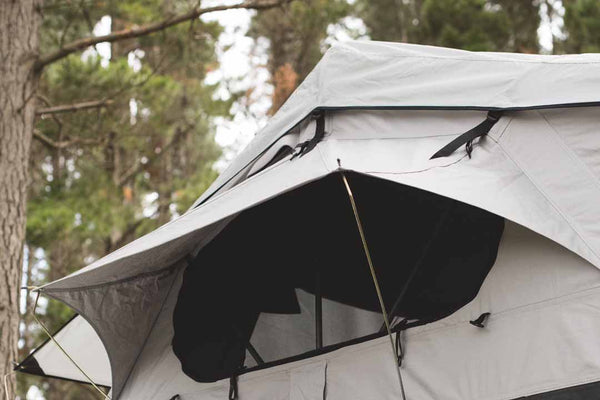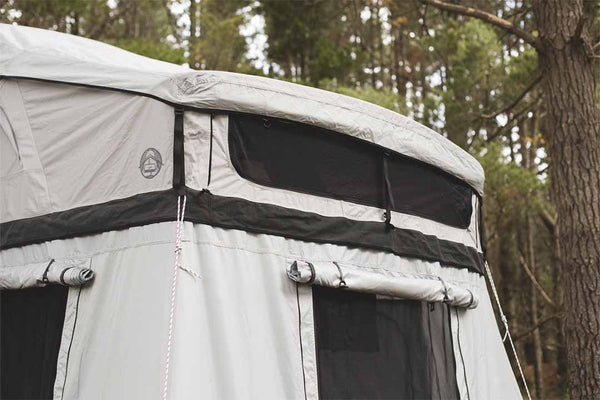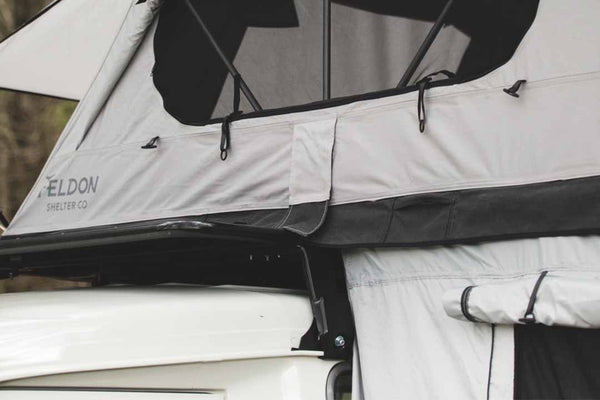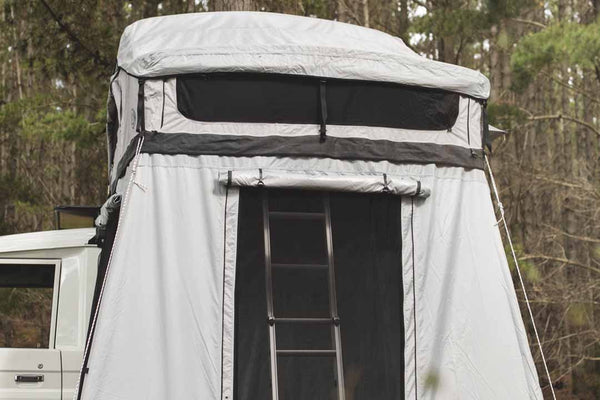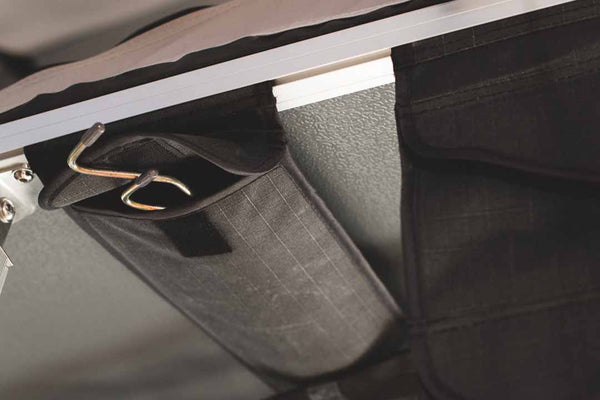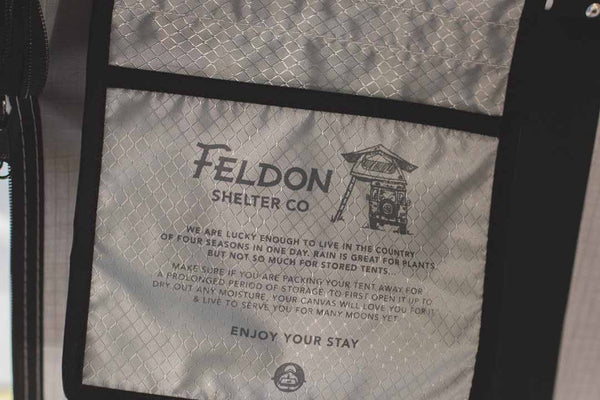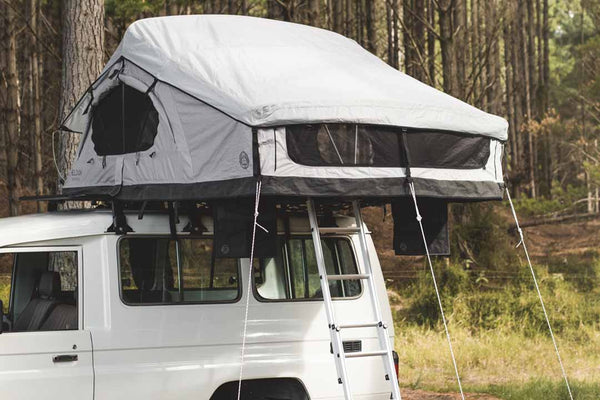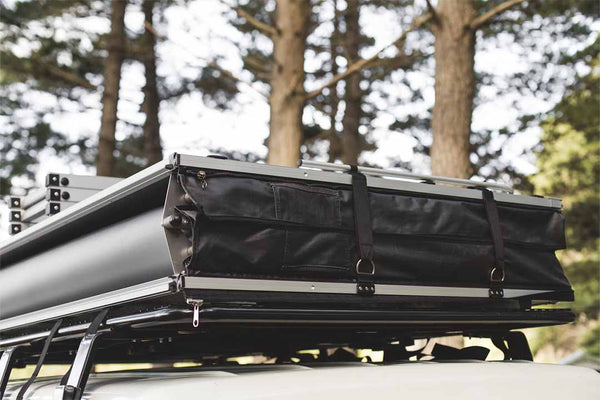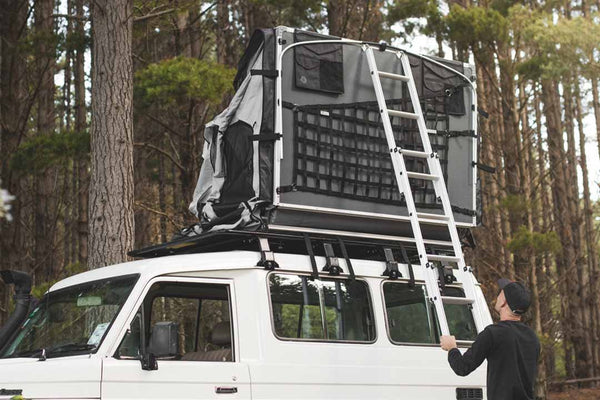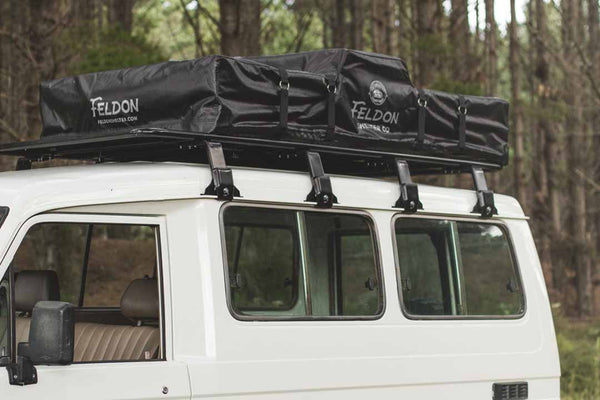 Feldon Crow's Nest Family Roof Top Tent Bundle - Coal Black - $3499
THIS PRODUCT IS PICK UP ONLY OR YOU CAN ARRANGE YOUR OWN SHIPPING. PLEASE DO NOT PURCHASE IF YOU ARE NOT ABLE TO ARRANGE COLLECTION OR YOUR OWN TRANSPORTATION.
THE $1000 PAYMENT IS FOR A DEPOSIT ON THIS ORDER.
THE TOTAL FOR THIS PRODUCT IS $3499 INC GST.
THIS COMES WITH A TALL FAMILY BONUS ROOM (2.1-2.3M)
PICKUP FROM OUR MARRICKVILLE NSW STORE. INSTALLATION IS AVAILABLE FOR AN ADDITIONAL COST
JOIN THE FAMILY ADVENTURE
Forget blowing up mattresses, and putting up poles. Introducing The Crow's Nest Family, Feldon Shelter's Family-sized Rooftop Tent. The Crow's Nest Family tent is up in less time than it takes to unload the car. A simple pull of the ladder unfolds the ready-to-use tent all by itself. There's a built-in king mattress that tucks your sleeping bag and pillows away inside, saving you valuable car space. An effortless setup for carefree adventures.
The Crow's Nest Family Rooftop comes with the Bonus Room as part of the package because lets face it, you need all the space you can get when heading away with the whole family. Use it as you please, another bedroom, your kitchen or toy storage, the possibilities are endless.
This bundle includes both a Crow's Nest Family Rooftop Tent + Bonus Room add-on!
CROW'S NEST FAMILY ROOFTOP TENT BUNDLE FEATURES:
- 3-4 person 1.8m wide base! Unfolded it measures 1.8m wide and 2.4m long, enough space for 2 adults and a 2 little ones, or three adults and a little one, it's up to you.
- Extended body and rain-fly, covering the full ladder entry and creates even more shelter underneath.

- Aluminium Honeycomb-Cell base construction. Dent resistant & 5x stronger than regular roof top tent bases.

- Heavy duty cargo net storage: Located underneath the base. With multiple O-ring/hooks for overhead storage.

- Extra front window & mesh opening for even more views.
- NZ's original curved roof design provides extra height over generic rooftop tents and prevents water pooling and improves aerodynamics

- High view window design for 360° views and better aerodynamics.

- Base mounted shoe & and gadget pockets for extra storage. Keep your muddy shoes, outside and off the ground. The pockets also feature a vented bottom panel to drip dry your shoes overnight.
- Heavy duty PVC travel cover with welded triple layer reinforcement panels. Featuring our own original design roll up storage system.
- All aluminium internal skeleton, marine grade stainless steel hinges and hardware for extended life and strength. No plastic.
- Larger hinges than other generic rooftop tents available so that bedding and pillows can be tucked away permanently in the tent while closed and travelling
- Internal storage pockets to keep your snacks, smartphone and lights nice and safe.
- Quick release hand attachments mean the tent is easily installed, removed or swapped between vehicles.
- 60mm ErgoCell high density foam mattress with a removable cotton cover and waterproof polyester ripstop underside & anti-soak corners to keep condensation out. Designed to sleep individuals up to 7ft in height.
- Adjustable alloy retractable ladder. Optional extensions available for raised vehicles
- Heavy duty YKK zippers.
- Locally sourced marine grade 316 stainless steel eyelets.
- Velcro sealed power cable access points allow cable connection from car.
- Mosquito mesh windows, doors and vents.
- Zip-open mosquito mesh on all windows and doors.
- Extra strong 40mm straps, velcro & marine grade stainless steel attachment D-rings throughout.
- Additional material swatch bag, for tent, rainfly and mesh repairs.
- Bonus Room has two access doors for better flow and ease of use.
- Bonus Room has a removable heavy duty PVC floor so you can have a more natural feel with grass at your feet.
NEW ZEALAND DESIGN
From Northland's beaming sun to the howling winds of the deep South, the Crow's Nest has been rigorously tested amongst it all. Each element has been purposely designed here in New Zealand for New Zealand conditions.
Felton Shelter's uniquely curved roof prevents annoying water pooling and those unsuspecting roof showers. These curves mean smoother aerodynamics so even the strongest of winds are no match. We've given extra attention to keep your nest cosy and dry by specially waterproof treating our canvas, using waxed stitching and taping all seams.
With durability and New Zealand's hard sun in mind, The Crow's Nest is constructed with our heavy duty, UV resistant, ripstop poly cotton canvas. With double stitching throughout, strong YKK zippers, reinforced aluminium skeleton and industrial stainless hardware, basically, you're set for many moons to come.
The most premium roof-top tent available is chocked full of carefully thought out features. Ample storage is taken care of with external shoe pockets, a multi purpose cargo net, and handy internal storage pockets. A retractable light-weight ladder, quick release hand attachments and plenty of ventilation take the pain out of camping to create effortless adventures.
Feldon's very own built in ErgoCell queen sized mattress comfortably fits two people with enough room to stretch out. Designed to sleep even the tallest adventurer comfortably. There's nothing like a soft and flat bed to lay on after a long day behind the wheel. You can kiss goodbye those restless nights spent sleeping on rocks and roots.
SETUP AND REQUIREMENTS
Because the Family Crow's Nest is larger so to comfortably house everyone, your vehicle will need to have three roof racks or a suitable roof cage with a combined minimum dynamic load rating of 100kg. Please note: not all vehicles can sport the Family Crow's Nest (e.g hatchbacks and smaller SUV's) this is because the roof dimensions does not allow for the three roof racks we need to safely get the Family Crow's Nest up top. If you are unsure, please get in contact to chat details.
If your vehicle is on the taller side, we're talking over 2 metres (from the ground to the top of the roof rack) then you will need to add a Ladder Extension. 
The Crow's Nest Rooftop Tent has a load rating of 300kg. 
MATERIALS
TENT: 360G Poly Cotton Rip-Stop Canvas. Developed & proven for NZ's Harshest Conditions to be Tear-resistant, Waterproof & Weatherproof in anything your travels throw at you. UV, mould and mildew resistant, with high grade 150G mosquito mesh throughout.
RAINFLY: 420D Diamond Ripstop Polyester X-Canvas. Extremely durable, Tear-resistant, Waterproof & Weatherproof. UV, mould and mildew resistant.
TRAVEL COVER: 2000 Denier Reinforced PVC. Triple reinforcement panels in high wear areas. Constructed with COATS UV-Resistant Thread (the stuff used on yacht sails).
BASE: 30mm Aluminium Fully Tig-Welded Frame, with 10 internal reinforcement backbones.
- Durable powder-coated aluminium anti-scratch base surface with fully anodised components throughout.
- 316 Stainless steel reinforced hinge work and bracing.
- Engineered to be lightweight, durable & capable of housing 300kg worth of adventurers inside.
EXTERNAL DIMENSIONS
Open: 180cm W x 240cm L x 125cm H
Closed: 180cm W x 120cm L x 30cm H
Weight: 70 kg