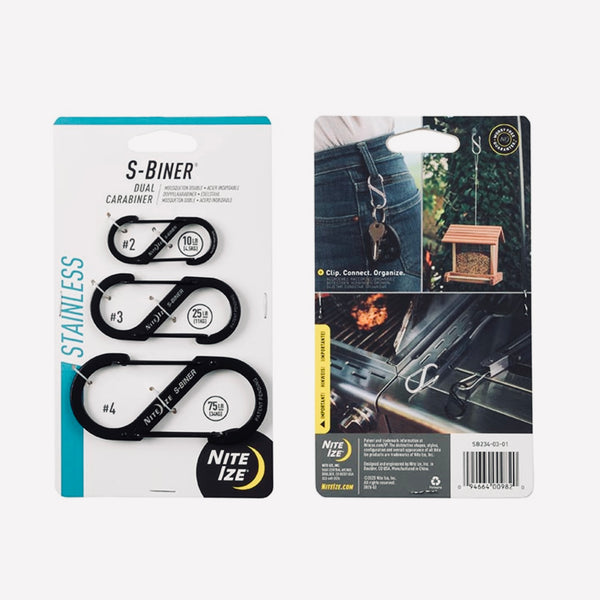 Nite Ize Stainless Steel Dual Carabiner S-Biner 3pack
The iconic S-Biner design allows quick and easy attachment using its unique double-gated design. The high-quality, durable stainless steel body is available in a variety of sizes that are individually weight rated, creating a perfect way to hold, secure, and connect everything from keys to water bottles to gear.
PRODUCT DETAILS
High quality stainless steel construction
Available in 5 sizes / 2 finishes
Secure stainless steel wire gate closure
Size #1:

Dimensions: 1.56" x 0.62" x 0.21" | 39.67mm x 15.86mm x 5.50mm
Weight: 0.14oz | 4.00g
Weight Rating: 5 lb.

Size #2:

Dimensions: 1.95" x 0.85" x 0.24" | 49.75mm x 21.71mm x 6.15mm
Weight: 0.25oz | 7.00g
Weight Rating: 10 lb.

Size #3:

Dimensions: 2.67" x 1.18" x 0.26" | 67.97mm x 30.09mm x 6.83mm
Weight: 0.49oz | 14.00g
Weight Rating: 25 lb.

Size #4:

Dimensions: 3.52" x 1.57" x 0.31" | 89.41mm x 39.92mm x 7.94mm
Weight: 1.06oz | 30.00g
Weight Rating: 75 lb.

Size #5:

Dimensions: 4.38" x 1.93" x 0.33" | 111.41mm x 49.19mm x 8.45mm
Weight: 1.69oz | 48.00g
Weight Rating: 100 lb.
WARNING: Not for use where disengagement could result in bodily injury or property damage. Not for climbing.